Summary
Lithium spot and contract price news.
Lithium battery news – US$20 billion committed to new Lithium battery factories and expansions, and a forecast six-fold increase in the market for EV batteries to US$24 billion by 2025.
Lithium miners news – A very busy month for the Australian lithium miners. Galaxy Resources is rumored to achieve USD 800/tonne spodumene prices for CY 18 offtake.
Welcome to the October 2016 edition of the lithium miner news.
Again another very busy month for the lithium industry, with many of the lithium miners stock prices falling in October, perhaps due to the small declines in the lithium carbonate prices. I will start with a bullish quote from a Nasdaq article dated October 18, 2016:
"Lithium now appears to be at a crucial moment in time: The moment when profits in the industry begin to elevate market valuations, and when consolidation starts to boost gains for all those junior explorers who have been scooping up land in the world's lithium sweet spots. Lithium demand is rising fast, but those that understand the product lifecycle and development stages see that we are on the cusp of something much bigger. As more and more countries cross the electric vehicle chasm, demand will explode. This is not even considering grid storage, which is set to outstrip electric vehicle demand, and the rising use of consumer electronics."
For the record, I agree with the above, and have been saying similarly for two years now. The only caveat being that EVs continue to grow rapidly, which I think they will.
Lithium spot and contract price news
During October, 99.5% lithium carbonate China spot prices fell 0.59% and are now stabilizing around USD 18,000/tonne.
Lithium carbonate China spot price to July 2016 – Currently around USD 18,000 per tonne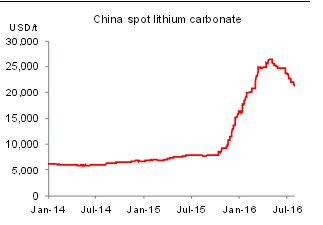 Lithium carbonate 99.5% China contract prices range between USD 14-15,000/tonne. China contract prices fell slightly during the month of October, as you can see from the graph below.
Lithium carbonate 99.5% contract prices – 1-year chart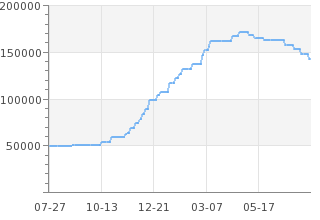 (Source)
Lithium demand versus supply outlook
According to Mr Lithium Joe Lowry, CEO of Global Lithium LLC, "Hydroxide supply is very tight as battery demand increases sharply". I would urge serious investors to read an insightful interview with Joe Lowry by Investing News Network, as he is the leading global expert in this field. When Mr Lowry was asked "Where is the raw material going to come from?", this was his reply:
"I have a really hard time-even with my moderate 2020 demand number of 312,000 metric tons keeping the supply ahead of demand in my model. It stays in balance to 2020 only with substantially more hard rock capacity – Mt. Marion, Mt. Cattlin and later Pilbara (OTC:PILBF, ASX:PLS) converted to lithium chemicals in China for the most part. The number of suppliers will increase. Companies like Ganfeng and Tianqi will be increasingly significant. Others like FMC who fail to expand resource capacity will decline in significance."
Lithium demand forecasts 2015-2020 – by Joe Lowry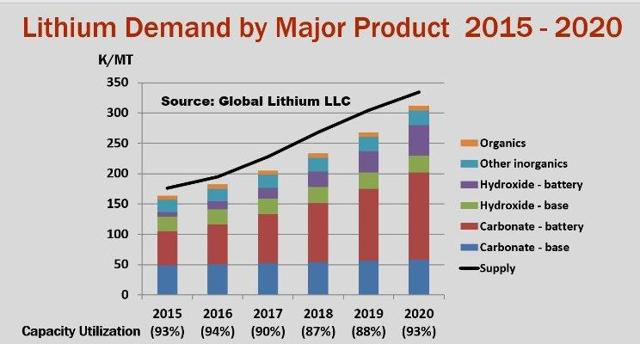 (Source)
Note that Joe's supply line is above the demand bar charts. He addresses this by stating, "Given the long supply chains in the industry and depleted inventories in a shortage environment; the lithium market will remain tight into the next decade."
I was interested to read Joe's ("conservative") target of 312ktpa of LCE demand in 2020. It is still well below my updated model forecast of 569ktpa by end 2020, and that is based on 9% EV global market share (7.5m EVs) of average 50kWh batteries. My model also showed supply should remain fairly tight to 2020 and may go into deficit (due to the EV boom accelerating after that) unless very significant new supply comes on. Certainly for now, my forecasts are well ahead of the mainstream, primarily as most people don't see the EV boom coming as quickly as I see it (9% EV market share by end 2020). We will have to wait and see by late 2020.
Also of interest was Joe Lowry's forecast for the lithium carbonate price (outside China) to average between 10-14,000/t, and a bit higher in China. My models have based on USD10,000/t to remain conservative. Joe also discussed the trend towards lithium hydroxide (rather than lithium carbonate), which the Big 3 (SQM, FMC, and Albemarle (NYSE:ALB)) need to convert (at additional cost) from lithium carbonate (except for Albemarle's spodumene from Greenbushes in WA). This currently favors the spodumene producers, whose lithium sulphate product can easily be converted by the Chinese converters (Tianqi (SHE:002466) and Gangfeng (SHE:002460)) to either carbonate or hydroxide. Finally, Joe also says, "I'm a fan of Galaxy Resources (OTCPK:GALXF, ASX:GXY)", and he also goes on to say regarding Lithium Americas (OTCQX:LACDF, TSX:LAC) that, "the deal with SQM… I think it will actually prove to be very smart for both parties."
Lithium battery news
Goldman Sachs recently forecast "a six-fold increase in the market for EV batteries to US$24 billion by 2025, fueled by increases in energy density to lower prices."
Lithium-ion battery exports accelerating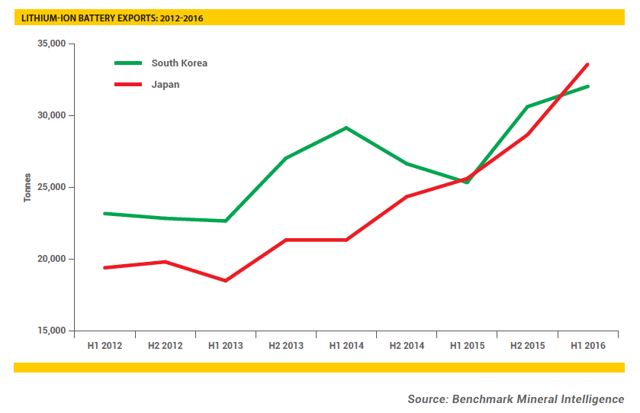 (Source: Benchmark Mineral Intelligence)
An October 14 article from Mining Weekly entitled "Energy metal demand to outpace output in wake of $20bn battery build boom" is a very worthwhile read. Highlights included the following quotes from Benchmark Mineral Intelligence Simon Moores:
More than $20-billion currently committed to creating new, or expanding existing lithium-ion battery cell plants.
The major manufacturers are preparing for a four-to six-fold increase in cathode buying by 2020.
This will take global production capacity from megawatt to gigawatt territory, with the bulk of the activity taking place in China, where massive tooling operations are currently under way.
Lithium-ion battery costs are also falling at an increasing rate, (Moores) expecting that rate to quicken to between 15% and 20% a year between 2016 and 2020.
Energy storage as the new oil.
The ability to store energy is the game changer, entailing pure electric vehicles (EVs), mainstream solar power generation and modern smart grids, using peak shifting grid energy storage technologies. The impact on solar power will be revolutionary, as the low cost and abundance of lithium-ion batteries will cheapen the cost of energy storage.
Large-scale adoption of full EVs and utility storage applications, reflecting increasing battery entrenchment in everyday life.
The bottom line, is that (we are) on the way to half-a-terawatt in battery-building capacity, raw materials need to evolve to supply the unprecedented demand growth from battery manufacturers by 2025.
Simon Moore also said that the mining industry will struggle to meet new lithium demand of around 100-120,000 t pa of lithium carbonate by 2020, and expects only 30,000t pa of increase in supply by 2020. The gap to likely be filled by new spodumene production out of Australia. Last month I reportedthat Mr. Lithium, Joe Lowry, tweeted on August 30 that he was "convinced lithium supply won't exceed demand in this decade."
Moore has similar shortage of supply concerns for both graphite and cobalt.
Put simply in my own words – EVs are heading to full adoption, energy storage will boom, battery factories are expanding like crazy, and raw material suppliers (lithium, graphite, cobalt, nickel, copper) need to be ready for explosive demand. All great news.
Lithium miner news
Albemarle
Albemarle plans to release third-quarter 2016 earnings results on November 7, 2016.
FMC
FMC Corp. had no lithium-related news for the month.
Sociedad Quimica y Minera S.A.
SQM gave a presentation in New York at the BTG Latin American CEO Conference. You can view the presentation here.
Tianqi Lithium
Bloomberg reported on October 12 that, "Tianqi will begin construction at its A$400 million ($303 million) plant in Kwinana this month to boost the company's processing capacity by more than 50 percent. The plant will produce 24,000 metric tons a year of lithium hydroxide with the ore coming from the nearby Greenbushes mine, the world's largest hard rock lithium mine, that's 51 percent owned by the company."
Jiangxi Ganfeng Lithium
On October 24, Gangfeng announced that the company "sees net profit for 2016 to increase by 400 percent to 450 percent, or to be 625.8 million yuan to 688.3 million yuan. (Gangfeng) Says the net profit of 2015 was 125.2 million yuan. Comments that increased market demand of lithium batteries is the main reason for the forecast."
Gangfeng is certainly becoming a major player in the lithium industry, and has an estimated 2016 net profit margin of 22.45% and 2017 forecast P/E of 23.86. A shame most investors cannot access the stock, at least for now, as this may soon change with the HK-Shenzhen stock connect planned soon.
Orocobre (OTCPK:OROCF, ASX:ORE, TSX:ORL)
On October 13, Orocobre released its annual report, which you can read here. Highlights include:
Operations have been operating cash flow positive since January 2016. Operations profitable.
Costs already in second quartile of global production, significant optimisation opportunities remain.
Expansion studies underway for total production (LCE) of 35,000-42,500 tonnes per annum (tpa).
Excellent market fundamentals for lithium with strong demand growth, tight supply and rising prices.
Orocobre also updated its view on lithium demand versus supply, as you can see from the chart below, where the company sees the market being undersupplied. Its upper-end demand (blue dotted line) is now finishing above 400ktpa LCE by 2020 – certainly an upgrade on its previous forecasts, and closer to my 569ktpa forecast for end 2020. Of interest is that the company has included new supply coming on from Galaxy Mt Cattlin (2017), the Chinese brine producers (2017), SQM/Lithium Americas (2017/18), and Gangfeng Mt Marion (2019), apart from its own and Albemarle's expansion. Orocobre doesn't mention Altura Mining (OTCPK:ALTAF, ASX:AJM), Pilbara Minerals, Critical Elements (OTCQX:CRECF, TSXV:CRE), Nemaska Lithium (OTCQX:NMKEF, TSX:NMX), or Lithium X (OTCQB:LIXXF, ROCEF, TSXV:LIX). My view is that the later lithium miners will be needed to fill the undersupply gap in the higher-case demand scenario.
Orocobre Chart – Undersupply of lithium carbonate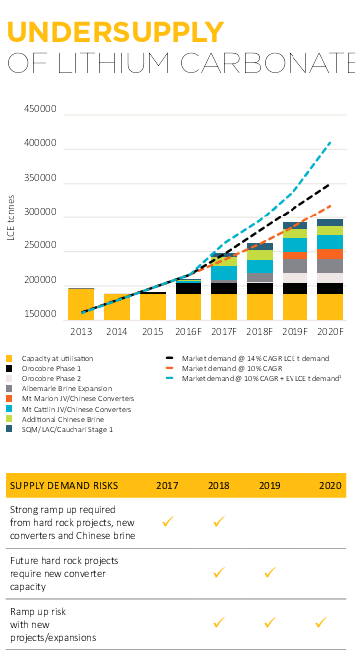 (Source: Orocobre 2016 Annual Report – page 7)
Neometals (OTC:RRSSF, ASX:NMT) and Mineral Resources (OTC:MALRF, OTCPK:MALRY, ASX:MIN)
On September 30, Neometals and Mineral Resources released a statement that they "are pleased to announce the signing of a Memorandum of Understanding (NASDAQ:MOU) to further progress the development of a downstream lithium chemical plant." This is a good move, as one of the key industry problems going forward is having capacity to process the spodumene as lithium demand rises strongly.
On October 27, they announced that the "Mt Marion mineral resource estimate increased by 29% to 77.8Mt."
Galaxy Resources
Last month, I reported here on Seeking Alpha that Baillieu came out with an analysts report on Galaxy with a value of AUD 0.74, or a 1-year target of AUD 0.65. On October 6, Bell Potter Securities initiated coverage of GXY with a speculative buy rating and a target price of $0.58. These targets are still consistent with my targets – 2017 target AUD 0.64 or DCF target of AUD 0.95 (based on a USD 650 spodumene selling price and 150ktpa of production), and again shows Galaxy is very undervalued right now, trading at a mere AUD 0.33.
One page 5 in the Blue Ocean Equities report on Pilbara Minerals last month, the following was stated regarding Galaxy: "Anecdotal evidence we have heard from a number of market participants that Mt Cattlin (a spodumene mine in WA owned by Galaxy Resources) is likely to finalise its spodumene offtake agreements for CY17 in the next few months and the agreed price could potentially be as high as US$800-1,000/t. Again, this figure should not be relied upon until it is confirmed as this type of anecdotal information is often unreliable." Nonetheless, I expect it would certainly move the market if such a result were reported soon, and give a reason for a new surge in the spodumene lithium miners stock prices.
Finally, a reminder to investors that operations at Mt Cattlin are currently suspended due to a major refurbishment and expansion of the processing plant, with production planned to resume again in November 2016.
Upcoming catalysts include:
Q4 2016 – Pricing for 2017 Mt Cattlin offtake to be finalized. Mt Cattlin spodumene shipments starting in December 2016. An upgrade to the Mt Cattlin mineral resource.
H2 2016 – Commencing project financing evaluation and discussions for Sal de Vida.
Early 2017 – Earnings announcements from Mt Cattlin.
H1 2017 – Work on DFS for James Bay, Canada.
2017 – Mt Cattlin production ramp up to at least 160ktpa. This will significantly increase earnings. Also, Galaxy has AUD 214 million in unused tax losses, so it is unlikely to pay any income tax for a few years.
Altura Mining
On October 17, Altura announced that it "is pleased to advise that it has executed a Letter of Intent (LoI) with Lionergy Limited (Lionergy) to assist the Company with its funding requirements for the construction of its Pilgangoora Lithium Project." And "Altura is already working with other global debt and equity groups and the Company believes a combined offtake and funding outcome would be favourably received by other potential funding providers."
To recap, Altura's recent DFS stated that the capital requirement to start the mine would be AUD 139.7 million. The company, as stated above, is currently working on the mine financing arrangements and the mining proposal (the last remaining regulatory prerequisite). Once finalized, it will begin mine construction, with production hoped to begin by late 2017.
Altura also announced in the same update that "Lionergy plans to construct a lithium carbonate plant in China to coincide with commencement of operations at Altura's Pilgangoora lithium mine, of which Altura has "an opportunity to be a shareholder." Lionergy is a binding offtake and equity partner of Altura.
Upcoming catalysts include:
Q4 2016 – Project financing to be finalized.
Q1 2017 – Construction of the mine planned to start.
Late 2017 – Production is forecast to commence.
Pilbara Minerals
Late last month, Blue Ocean Equities released a research report on Pilbara Minerals with a buy rating and a target price of AUD 1.25. They also discuss a AUD 2.50 "strategic target," wherein Pilbara doubles its production after 3 years, succeeds with its General Lithium JV processing plant, and spodumene prices rise to USD 800/t.
They view Pilbara's "Pilgangoora's status as the world's best undeveloped spodumene deposit." They also stated, "Pilgangoora is a compelling, low-risk development project due to its: World-class scale (the largest undeveloped spodumene deposit globally, above average grade, tantalum credit (unlike most peers), leading cost position (likely to be the lowest cost spodumene producer globally), low permitting and sovereign risk (WA ranked #1 jurisdiction for mining investment), low technical risk (compared to brine counterparts), low capital intensity, fast payback and return on capital (even at substantial discounts to current prices), supported by strong macro thematic (uptake of EV's and grid power), and an experienced team."
In a similar recent broker report by Foster Stockbroking, they mentioned that "in addition to General Lithium, PLS said it was in advanced negotiations with another Chinese converter, which may include a prepayment, as well as with two agents for tantalum concentrate." They also noted that the "PFS on the 4Mtpa expansion resulted an NPV10 of $1,165M, or delta of $456M over the 2Mtpa base case." The expansion refers to the plan of Pilbara Minerals to expand production capacity from 314ktpa to 628ktpa after 3 years (around 2021). All great news for the company. Foster Stockbroking has a 0.77 risked price target, and AUD 0.99 de-risked.
My model has an end-2018 target of AUD 1.33 for Pilbara Minerals based on production of 300ktpa of spodumene in 2018, rising to AUD 1.39 by end 2019 on 314ktpa production. I assume USD 600 per tonne spodumene selling price and a cost of USD 196 per tonne (lower than most due to a low strip ratio and strong tantalum credits).
Pilbara Minerals also noted some positive drilling results: "new zones of thick, high grade mineralization intersected outside known resource at Pilgangoora." The company announced "$8million deal boosts land holdings to 300sqkm around our WA lithium project."
It also released its annual report to shareholders, which you can read here. The report emphasizes the size, quality, and anticipated low operating cost of production at the Pilgangoora project.
On October 25, Pilbara Minerals announced that it had reached an agreement with Mineral Resources regarding its right of first refusal (ROFR) dispute with the latter. "Under the agreement, the Company will issue $A50 million in shares to Mineral Resources based on $0.48 per share in exchange for the relinquishment of the ROFR and the royalty. Mineral Resources has agreed it will not sell its shares for a period of 6 months and will not increase its holding in PLS for a period of 12 months." Pilbara Minerals stock responded positively to the news, I assume, as AUD 50 million is not too diluting (around 8%) for PLS with an AUD 600 million market cap.
My conclusion with regard to Pilbara Minerals overall is that the company is extremely motivated, and is working at full pace to fast-track the Pilgangoora project. It has a great offtake partner in place with General Lithium, estimated very low operating costs and plans to be producing by late 2017. That would be a remarkable achievement.
Upcoming catalysts include:
H2 2016 – Permitting approvals, native title agreement, grant of mine lease, and perhaps project financing announcements.
Late 2017 or early 2018 – Commence production
Nemaska Lithium
Nemaska released a report on drill results at Whabouchi, which you can readhere. The results are still being analyzed, and the company is hoping to prove up an additional 4.69 Mt of inferred resources.
Critical Elements
Critical Elements had no lithium related news for the month.
Upcoming catalysts include:
H2 2016 – Feasibility Study (FS). Helm AG has agreed (subject to a positive FS) to take 100% offtake, and with an option to take a 25% equity stake in Critical Elements.
2019 – Production is expected to begin.
Lithium Americas
Lithium Americas had no lithium-related news for the month.
Upcoming catalysts include:
By end 2016 – FS for Cauchari-Olaroz.
By end 2016 – PFS for Lithium Nevada.
1H 2017 – Construction at Cauchari-Olaroz is is expected to begin. The first stage will be 25,000 tons per year, and then add the remaining 25,000 tons per year.
NB: LAC previously sold 50% of the Cauchari-Olaroz project to SQM.
Lithium X
Lithium X had no lithium-related news for the month.
Upcoming catalysts include:
2H 2016 – Updated economics, and commencement of construction of a pilot pond facility at Sal de Los Angeles.
2H 2016 – Drill results at Clayton Valley.
Bacanora Minerals (OTC:BCRMF, TSXV:BCN)
On October 27, Bacanora Minerals released its financial results for the year ending June 30, 2016. In the report, it stated: "The Company has successfully completed a 4,000 metre drilling programme at the Sonora Lithium Project, comprising 3,000 metres focused on upgrading a portion of the current mineral resource from the indicated to measured category, in conjunction with 1,000 metres for geotechnical and hydrological drilling for a Feasibility Study ("FS")."
Neo Lithium (OTC:NTTHF, TSXV:NLC)
On October 19, Neo Lithium announced "positive results of lithium brine process studies":
Brine can be concentrated up to 2.6% lithium with no reagent consumption and up to 4.6% lithium with minimal reagent consumption.
The period of time that brine is required to evaporate in ponds is approximately 8 months.
Recovery of ponds is 25 tonnes of lithium carbonate per hectare of pond constructed, comparable to other projects in the region.
Certainly, Neo Lithium is moving at break-neck speed, after making a later start than the companies featured above.
Pure Energy (OTCQB:PEMIF, CVE:PE)
On October 12, Pure Energy announced that it completed a "successful lithium brine pumping test at Clayton Valley South project, Nevada."
European Metals (OTCPK:MNTCF, ASX:EMH, AIM:EMH)
On October 21, European Metals announced "the completion of the concentration testwork for lithium as part of the ongoing pre-feasibility study ("PFS")", and that "wet magnetic separation ("WMS") achieved a near pure lithium mica concentrate grading 2.85% Li2O with a lithium recovery of 92%."
POSCO (NYSE:PKX)
I could not find any recent news on POSCO's lithium plans.
Global X Lithium ETF (NYSEARCA:LIT)
LIT was down –0.29% for the month, and currently trades at a P/E of 23.32.
LIT chart – 2011 to October 2016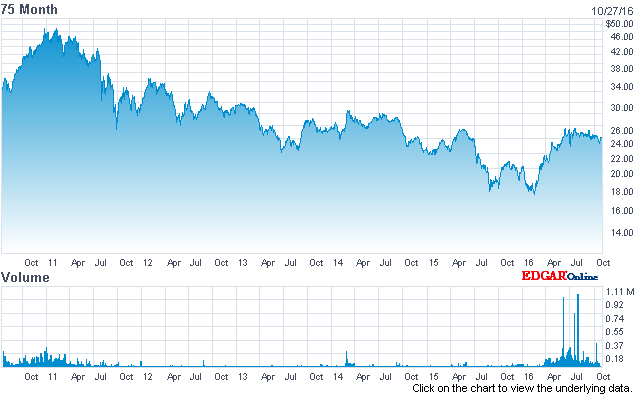 (Source: Nasdaq)
Conclusion
That completes yet another very busy month in the lithium space. Many of the lithium miners (especially the Australian ones) are trading at prices around 50% discounted to their valuation or analyst estimates. Now that the lithium spot and contract prices appear to be stabilizing, I expect that the oversold Australian lithium miners will bounce back.
Going forward, I expect there to be enough demand to allow 1-2 new junior lithium miners per annum to enter the market. For example, 2016 to add Galaxy Resources and Neometals/Mineral Resources, 2017 to add Altura Mining and Pilbara Minerals, 2018 to add Lithium Americas, 2019 to add Critical Elements and Nemaska Lithium, and 2020 to add Lithium X. There is every chance many of those I just listed will run late, and some may not make it at all. From 2020 onwards, there will be many new smaller additions such as Neo Lithium, Pure Energy, Crystal Peak Minerals (OTCQX:CPMMF, TVXV:CPM) or Bacanora Minerals.
I will end October with an inspiring quote I read this month on Nasdaq regarding lithium.
"It's the commodity powering the next, undeniable energy revolution. The tight supply picture emerging as electric cars, mega-batteries and massive energy storage solutions become the cornerstones of our lives could be on the edge of turning new lithium explorers into the next barons."
As usual, all comments are welcome, and if you have some lithium miner news from October that I have not covered, feel free to add it in along with a link.
Disclosure: WE are YUNERGY BATTERY CO.,LTD. This is the opinion we have. By the way,if you need battery cooperation from us,please send email to us, http://www.yunergybattery.com . email availavle: info@yunergybattery.com